Services
Services
We empower people through interactive, culturally-relevant, skill-building workshops and events. We equip leaders with curricula to build stronger communities and develop a positive environment to raise children. We encourage a culture of hope through stories delivered online and on stage.
Couples
Ready? Set. Grow!

A workshop to help all individuals learn how to effectively communicate and resolve conflicts. 
The Strongest Link

A workshop for committed couples with six-core sessions on communication skills, problem-solving, knowing personal values and goals as well as couple goals, money management, intimacy, and paying back the community with the skills you've learned.
Prepare/Enrich

A customized relationship assessment that identifies your strengths and growth areas as a couple. After taking the assessment, a certified facilitator will meet with you to help them unpack and discuss your results and work through skill-building exercises.
Date Night
A romantic evening for couples. If you want to keep your marriage alive, you must make date night a priority. 
Romance Eterno
A culturally-relevant workshop for Latino couples to reinforce the importance of communication skills, conflict resolution, negotiation skills and empathy.
Singles
Ready? Set. Grow!

A workshop to help all individuals learn how to effectively communicate and resolve conflicts. 
No Jerks

A workshop to teach skills and tools to help pace your relationship in a safe way and get to know the most important things about a prospective partner. You'll learn the five stages of a relationship: know, trust, rely, commit, and intimacy.
Students
L.E.A.P.

Life Changing Experience Through Active Participation. L.E.A.P. teaches students social-emotional skills through the power and creativity of dance. We create a safe space for students to express themselves amongst peers while also teaching them skills for life.
Relationship Smarts

A workshop to help teens acquire practical skills for forming healthy relationships and teaches about self-awareness and interpersonal skills.
Everyday Owl provides daily wisdom on stuff they should've taught you in school. How can you live off the minimum wage? What's healthy and cheap? What does conflict resolution look like in the healthiest relationships?. There's fun info, zero judgment on all lifestyles, and the kind of daily joy you won't scroll past.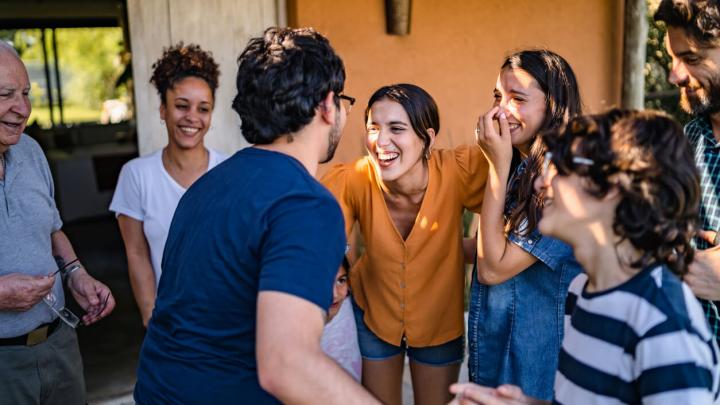 MicroEnterprise
A 12-week program to help individuals start their own small business. Classes include lessons on budgeting, loans/grants, advertising, social media & more.
Bridges to Success
A job readiness program to prepare participants to get, keep, and excel at a new job.
I brought my teenage son to La Boda – and by brought, I mean dragged. He did not want to be there. I watched him throughout the show and saw how he went from being upset that he was forced to be there, to smiling, to laughing, to enjoying it. He ended up loving the show. We went to dinner afterwards and had conversations about many things we had never talked about before. It was a great mother – son moment."
Equip
AVANCE
AVANCE equips community leaders in state-of-the-art family and marriage curriculums and programs. We work alongside organizations to increase engagement with the surrounding community.
Volunteer Trainings
We are proud to offer training and events that empower volunteers with the knowledge, skills, and confidence to be an effective part of an organization's team.
Leadership Trainings
In partnership with BridgesXL, we provide a powerful, game-changing leadership course and coaching program for directors and managers.
Encourage
Abuelita Dice
A Spanish comedic minute that puts you face to face with "your Abuelita" as she offers her wisdom on love and relationships, finances, health and more. Check it out.
Secrets of Santa Monica
A theatre production written and produced by Latinos, with an original script, sound score and choreography. It is entertaining, comical, dramatic and intriguing with messages about family, relationships, decision-making and more.
The Struggle is Real
A parenting podcast designed to give you the tools you need to raise extraordinary children in a 21st-century world. We have created a pool of resources that include a weekly podcast, a book, and tools to help you navigate your children's emotions and behaviors. Tune in.
DatingIRL
Real conversations about hooking up, dating & relationships. Check it out.
Es un Show
An online sitcom about a mixed-heritage family finding joy in everyday life. Check it out.
¡Qué Gente, Mi Gente!
A daily radio novela about family, community, love and life set inside the comings and goings of a very culturally diversified neighborhood. It focuses on issues that affect the Latino community, including the struggles and joys of parenthood, marriage, family relations, addictions, obsessions, and the difficulties young ones face. Tune in.