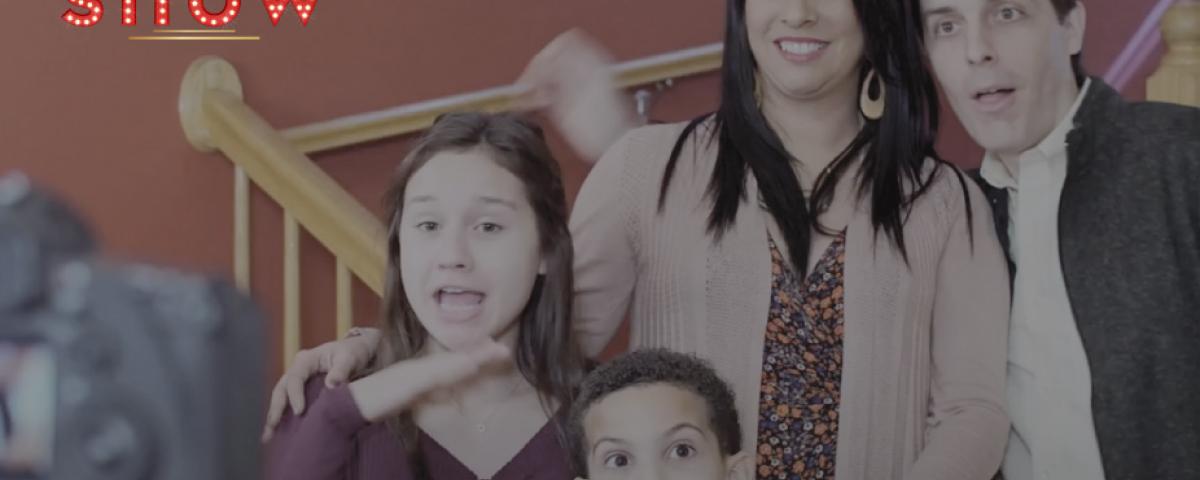 Storytelling is a powerful tool
Story-telling is one of humanity's most powerful tools. It has been used for generations to pass on traditions, instill values, and preserve a way of life. For Family Bridges, it is also a way to connect with people on their own terms, and to tell their stories in a way that reflects their reality with positivity and fun. This style of storytelling and education is called Entertainment-Education.
By embracing the entertainment-education model Family Bridges can reach its audiences through more venues, with the internet providing multiple platforms to do so. Through Facebook Live and YouTube, one of these programs told a quintessentially American story through the Garza-Jones family in the online show Es Un Show! 
The Latino community has a long tradition of education through storytelling. In the 1960s, Luis Valdez founded El Teatro Campesino, a travelling acting group to inform workers of their rights. The champion of the entertainment education model was Miguel Sabado, a Mexican TV producer who created programs which confronted domestic violence, public health, and interpersonal communication with proven, positive results. Family Bridges embraced that model, using it to create ¡Qué Gente, Mi Gente! on the radio and Los Secretos de Santa Monica on the stage. Es Un Show took the style of education to its next logical step, online streaming. Garnering thousands of views through Facebook Live, the fictitious family at the heart of the program connected with its audience. 
In order for the connection to last, and for the entertainment education model to be its most effective, it needs to be real. It shouldn't reflect an ideal reality or a hyper-exaggerated world where the problems and the consequences are beyond what ordinary people face. Es Un Show focused on Barry, Marisol, Pilar, and Houston - a mixed-heritage family from the Chicago area tackling everyday life together. Barry is of Polish heritage, and Marisol's parents are from Puerto Rico. Through love and laughter, they confronted challenges that most families face. From an episode about debt, to teenage heartbreak, to finding a job after being a stay-at-home mom, each situation the family found itself in is one where anyone can see themselves.
Es Un Show is a Spanglish turn of phrase which means "that's crazy!" It is the perfect expression to capture the highs and lows of daily life, both for Barry and Marisol, as well as for the families tuning in. Who hasn't ordered a large pizza because the kids are tired, the car tire blew, and no one feels like doing dishes? What family hasn't looked for the key to lasting happiness while facing major life transitions? The beauty of the Garza-Jones story is that even for families that don't speak Spanglish, or live in Chicago, or have two tweens, there is something they see on the show to which they can relate. This key factor of relatability even manifested in the casting choices. The actors could relate to their characters, and brought personal flavor to the performance. They look like the people they represent, unlike daytime soap operas or Hollywood movies. Es Un Show captures the essence of daily life, while presenting real-world solutions to the problems. 
When creating a program about love, family, and dodging life's curveballs, Family Bridges embraced the full spirit of entertainment education. It is at the heart of our mission. Our families mean everything to us, and we know it means everything to our viewers, and to you. Despite the trials and problems that accompany family life, Family Bridges created Es Un Show to embrace the wonderful craziness that is overcoming those obstacles. Programs like ¡Qué Gente, Mi Gente!, Los Secretos de Santa Monica, and Es Un Show embraced the Latino tradition of entertainment education to connect with Americans of many backgrounds by showing love for family, culture, and growth. Embracing the crazy, and growing closer together because it creates unique bonds that can shape a family and a community.
After all...es un show….and finding happiness in that is what life is about. 
To support the creation of other programs about fun, family, and real-life solutions come spend an evening getting to know us at our special event called Love Story on November 13, 2020 via YouTube Live. Come share about your family, your favorite experiences, and your love story. Have a cozy date night in with our date-in-a-box gift, live entertainment, and surprises. 
To register for the Love Story event and receive an early bird discount on tickets, you can sign up here.