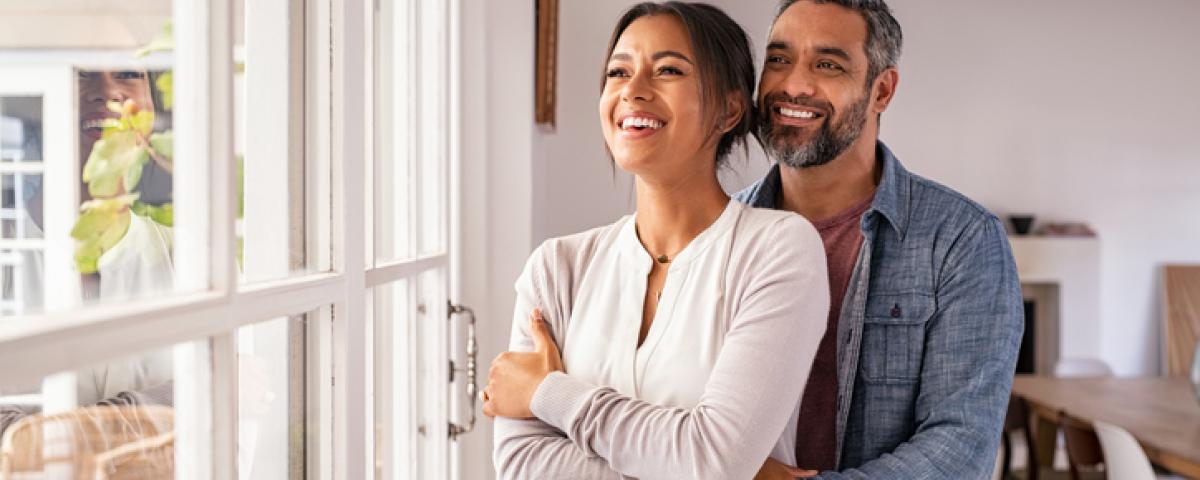 Lately, I have been grieving for friends who are in a harrowing season in their relationships and have recently divorced. I am burdened by how they suffer and the unbearable pain they are experiencing. Alas, it is a story unfolding for many of you, even as you read these lines.
As these stories came to our doorstep, my husband and I welcomed the conversation it invited. I don't believe we were necessarily more equipped or a more compatible couple than our friends. What has kept us from deciding not to break it off in the difficult seasons when we have drifted apart? Just like all couples, in our 24 years of marriage, we've had seasons where we have gotten busy with our own agendas and struggled connecting. Yet we have had many good seasons as well, where our love rekindled and where we grew closer together.
You've heard of the wise counsel, "keep the main thing, the main thing?" If you are married and you had to boil down what has helped you stick through your own valleys and mountains, what would that be?
As we talked about the mysterious secret sauce, we went through an impressive list:
Commitment
Prolific marriage and family researcher, Scott Stanley, would probably agree. In his book the Power of Commitment, Stanley shares his marital research for understanding commitment. Early in our marriage Stanley's writings and marriage workshops helped us understand what commitment means, including learning to handle the pressures of everyday life and transforming one's thinking from "me versus you" to "we" and "us. "I translated these insights by simply asking the question, "Does this help our marriage and family life or if I do X, Y or Z, am I turning my back against those whom I love?" Stanley also talks about capturing the mystery of teamwork and building a lasting vision for the future. While the hubby and I agreed this has undoubtedly been a pillar holding us steady, especially in the turbulent seasons - there is something else that seems to lead to a stronger bond.
Friendship
I have vivid memories of my dad randomly serenading my mom with a poem, of her faithfully bringing him coffee as they enjoyed a break mid-afternoon to catch up on the day's affairs, and later in the evening watching the evening news together where often they talked after long into the night. In modern times, we encourage couples to go on date nights or weekend getaways - to get some time alone without the disruption of the kids to talk and foster intimacy. My parents had habits ingrained in the rhythm of their relationship that fostered their companionship.
It does take a degree of intentionality, and it can be a tumultuous effort when you have smaller children, to plan a date night (even a home-bound one), or to escape without the kids regularly. I have found that these micro-habits go a long way. When you create these rhythms, it is beautiful to bear one another's burdens, actually talk to each other about what bothers you, about what you are struggling with, or even entertain big hairy and audacious dreams and goals. And it is a two-way street. It does require both parties to willingly participate - even if one takes the lead in organizing, planning, and making it happen.
Research supports that fun and laughter is good for marriages too. Married individuals whose spouse is their best friend have higher life satisfaction. And it gets better for people of faith. Spouses who share religious beliefs and are also best friends. The benefits of marital friendship are long term. They extend past the newlywed years far into the mature years.
Repair attempts
Whether it's because one of us is grouchy due to a bad night's sleep or whether it's because we are just very proud at the moment, inevitably we will hurt each other. Will say the wrong thing at the wrong time, fail to value each other, listen well or not consider each other's needs.
The relationship expert John Gottman (The Gottman Institute) clarifies that no matter how astute or prepared you are in relationships, inevitably, you are bound to snap, have an ugly screaming match, say mean things to each other, or get critical and defensive. Healthy relationships don't mean you are perfect!
What makes the difference is that healthy couples, at some point, make amends; they admit responsibility for their part and begin the healing process.
Interestingly, it doesn't matter which type of repair attempt is made (i.e, saying I'm sorry, a smile, a tender touch, a kind gesture, etc.). There is one thing, though, that makes these more effective friendships. When you have built an emotional bank by basically being nice to each other, being good friends, then repair efforts work better.
Sharing the load
There is a lot of management needed to run a home and wow it can be super challenging if it all falls under one person's shoulders only. Being responsive by seeing what needs to be done and rolling up our sleeves makes a big difference. Whether it's dishes, cooking, weed pulling, driving kids to activities, or keeping up with the finances - the list is loooong and when the load is shared; it is less stressful all around. Yet, this also was not the main thing for us.
Service
Coming together to present couples or parent workshops in the community or service project is something that has given us much joy over the years. As we come together to consider the personal stories we will share, the principles we will stress and the vision we hope those attending will gain, it brings us together in a special way. We learn together and there is something beautiful that happens when we get to serve together in this way. So good but still not the main thing either.
Strike-Out Blaming
Blaming can easily lead to contempt and this destroys. It's way too easy to point and find fault in how the other did something or have problems on when they did/or not do something. When we sense "blaming" is coming out to play, we fight to strike it out. It's a rule in our home - own your part, accept personal responsibility, and above all don't blame. Harder to do and yet more productive is to consider your spouses' point of view. Where are they coming from, how do they feel, what can they be thinking that prompted this or that? This is a game-changer - it changes the tone in your relationship. So important but it is still not the main thing for us.
Generosity
Frequently recognize, validate and show your appreciation. Gratitude is not natural as we are usually just thinking of ourselves. Cultivating it lessens the self, soothes bitterness, and is incredibly healing. We often say in workshops if this is the only practice you work on in your marriage, you will grow abundantly. Is this the same thing, it's on the top of the list, but no - it's not it.
Shared faith and values
Does it help that we share the same convictions, fear God, and seek to honor him in our lives, in how we parent, and in our marriage? Absolutely. In the end Christ is the one that helps us in this journey and without Him, it all is too hard!
Parenting
We have the best kids in the world! So says every parent right? We love this stage in our lives - it took us quite a bit to have children and perhaps this may have something to do with it but we enjoy this season of our lives with them. They are fun, curious, and full of life which makes life that much more valuable to do. Sure, we have our rifts from time to time on which rule one of us feels is important to follow which the other doesn't but even in weighting this out and seeing how it all plays out brings us together. No, it also is not the main thing either.
What is the main thing that we would attribute to the key ingredient of lasting love?
Seems like a cocktail of all of these is needed. But as we pressed and thought some more, we realized it does come down to one thing. A big thing.
LOVE
We can do all these things and more and yet if we don't nurture love in our hearts, commitment can become an obligation, forgiveness can be inauthentic, friendship can be cordial at best and often keeping us from digging deep to get to the root of issues, responsibilities can be pitted against each other so that one party feels bitter they do more, service can become a performance, and parenting can be a tug of war.
How do we love well? It does the heart good to remember a passage in 1 Corinthians 13:
"Love is patient, love is kind. It does not envy, it does not boast, it is not proud. It does not dishonor others, it is not self-seeking, it is not easily angered, it keeps no record of wrongs. Love does not delight in evil but rejoices with the truth. It always protects, always trusts, always hopes, always perseveres."
This week take the time to plan a growth opportunity for you and your spouse this year and invite others to do the same.
Plan a getaway
Read a book together
Engage in a small group marriage workshop
Plan a date night
Do a service project
Love Well and Encourage Others to Love Well As Well.