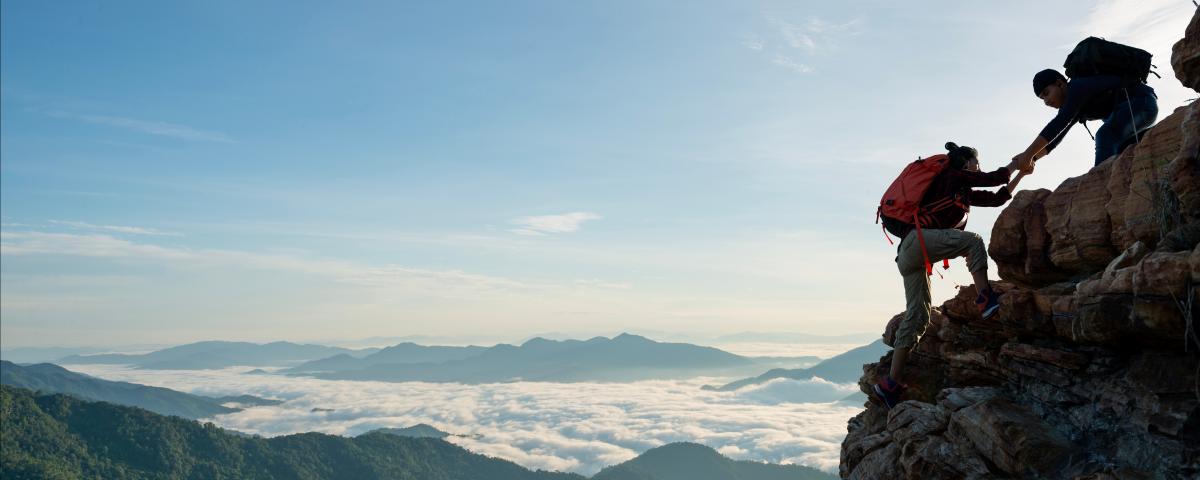 The Climb is Harder Than the Descent
Recently my husband and I went to Dubai. As part of our custom of visiting other countries, we began to explore some of their famous landmarks. We experienced the culture, the food, and the architectural designs. For one of our adventures, we booked an excursion to spend part of our day in the desert. It was steeped in excitement and thrill as we rode buggies and dashed around, sliding and gliding through the dunes. It often felt like the driver was going to lose total control as he would spin the wheel…lots of fun! The desert safari would not be complete without a camel ride and ending the day with food, entertainment, tea, coffee, and other activities. However, I want to draw your attention to sand surfing. This particular activity was part of the adventure. You are given a board and the tour guide gives you about a minute of instruction about descending the dunes. First, he waxes the board, then instructs guests to place their feet on the board, bend their knees slightly, and enjoy the ride. That's it. I volunteered to record and capture the adventure. 
My husband volunteered to participate in sand surfing. He stood atop the dune, listened to the instructions, and descended, falling off his board mid-way. However, I observed that the climb up was harder than the ride down. The dunes can be very steep, loose, and powdery. It makes it very challenging to keep your balance. My husband made several attempts and each time would wipe out and get covered with sand from head to toe. It was uncomfortable and irritating as it would get in his eyes, despite wearing sunglasses and covering his face. The other challenge is that it's hot in the desert, making it even more difficult. Then comes the climb up. He struggled as he attempted to climb up the dune, digging his feet in the sand and then sliding back down a few steps over and over. Once he finally reached the top of the dune, he was fatigued, out of breath, and tired from using all his strength. However, once he caught his breath, he would return to that board and repeat the process. Each time yielding the same result; the climb was harder than the descent. 
While I may have opted out of the excitement of sand surfing, I too have experienced the descents and challenging climbs of life. One night I received a call from my father in tears, sharing that my mother's condition was worsening. I could hear in his voice that he was struggling to climb back to the top…he was stuck at the bottom of the dunes. I immediately booked a flight with my husband and brother to bring my parents back home to find treatment for my mother's condition. Sounds easy enough.
However, there were a few descents along the way. The first descent was when our connecting flight to Florida was canceled due to the flooded airport in Ft. Lauderdale. It was 11:30 pm in Tennessee, and many desperate people were trying to find another way out. The agents kept calm as they listened to each complaint and frustration and tried to assist them as best they could. Then after finally reaching the counter, the only option we had was to fly into Tampa, arriving at 2:30 am, and then rent a car and drive another 3.5 hours to our destination. It was a hard climb back up. Tired and exhausted, we drove until we finally reached my parents' home at 6 am and slept for two hours.  We had two days to wrap things up before heading back home. We were able to board the plane and travel back safely. Finally, we were home and received by the family with so much love and willingness to pitch in and help. A few days later, we got another call…"I am so sorry, but I just tested positive for COVID." Whaaaaat?! Everyone in my house, except for my husband, had COVID. This was another setback.
Lately, I've come across so much opposition that I've often been left feeling overwhelmed and wondering why I have been dealing with so much. It wasn't until I listened to the author of "Throw the first punch," Beth Guckenberger, in one of our book club meetings, talk about how God grows our capacity, which grows our faith and strengthens our leadership that I began to understand. He expands our capacity to lead better and to trust in Him more, preparing us for growth within our ministries, businesses, and projects.
Yikes! It dawned on me that for the longest time, I've been praying for God to enlarge my territory. Of course, for that to happen, He had to expand my capacity by stretching and challenging me through some tough situations. However, these challenges would increase my resilience, joy, faith, endurance, strength, and courage.
So here are a few lessons I have learned through my season of expansion:
Don't Resist: Oftentimes, we try to resist the hard stuff. However, if we are able to keep pressing forward, stay on course, and fight through the resistance, we eventually find joy and a sense of accomplishment. In this process, we learn more about ourselves and how to steer the ship and accept the responsibility. We learn how to respond to the ups and downs as they keep coming along. It gets us out of that place of complacency and sharpens our skills and gifts, preparing us for God's expansion. 

Fight the Doubt: When faced with life challenges or setbacks, we question whether we are doing the right thing. We doubt our decisions and question our capacity.  Don't let the enemy shrink you and limit your capacity by steering you away from the vision. Your story is still being told. Giving in to doubt weakens and spiritually bruises us. The challenges or setbacks are opportunities to build an immense strength of character in us. It prepares you for future success. It is necessary to increase your fortitude and determination. Don't give up when things get tough; change the script in your head, and despite the odds, you will stand up and bounce back.

Stay encouraged: Finding encouragement in the midst of trauma, challenges, and setbacks can be very difficult to do. I am the most frustrated when I come up against something I can't control. But there are some areas or circumstances in our lives where we have to surrender and trust Him in that space. Although He is moving in ways we might not understand, He is putting together the pieces and will show his faithfulness as we continue to lean into Him. 
So, what have you been praying for lately? Expansion or an increase in capacity? Make room for the expansion you will experience. The climb may feel harder than the descent, but don't run away or avoid the challenges. Stand up and face them while trusting the process. Your capacity is being expanded despite what you face today.