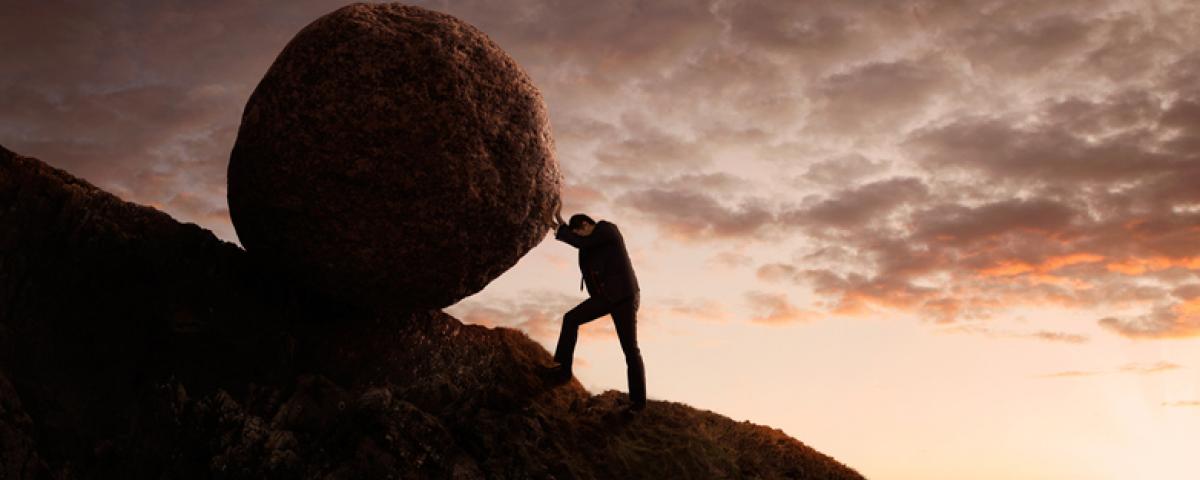 Compassion Fatigue and Burnout
I went to Colorado with my husband and some friends a few months ago.  We decided to visit Broadmoor Seven Falls.  It is a stunning waterfall with a 181-foot drop.  Part of the experience is climbing the 224 steps that lead to the hiking trails.  At first glance, it looked easy enough.  I have hiked before, and I felt in great shape for this.  We began climbing the steps that felt small at times, and the pathway going up and down was narrow.  As we kept going up, I could feel the strain on my legs; they wanted to give out.  I began to experience fatigue and shortness of breath, and my heart felt like it was going to leap out of my chest. Luckily, in the middle of the climb, there was a little resting area where you could stop to catch your breath.  We proceeded, and when I finally reached the top, I plopped myself on a rock.   My heart was pounding hard and fast, I was having difficulty breathing, and I felt lightheaded.  I wondered, "Could this be a heart attack?"  Sitting on the rock, I practiced relaxation techniques and remained calm until I gathered my strength to head back down and skip the hike.  As I made my way down the mountain, I found a resting area, and little by little, my heart rate went back to normal.  I could not understand what had happened because my husband and I had taken long and strenuous hikes in the past. Thank God for those designated areas that allow you to stop and give yourself a moment to pause and rest.  
Like the experience above, I have also experienced another type of fatigue. Some may know it as compassion fatigue.  In less than two years, I have grieved the loss of 3 family members and have become the caregiver of my parents and older brother while taking care of my own family and continuing to work and serve.  These different roles have all been extensive and demanding. As a result, I began to serve beyond my capacity and developed compassion fatigue.  Interestingly, I did not realize I was in that state until recently when I went on a sabbatical and  took the time to replenish and take care of myself first. As a result, I had a chance to pause, grieve, and rest.   
During my sabbatical, I was able to reflect on a few questions.  
Is what I am doing sustainable for the amount of time required? 
What can I make happen, and what can I not? 
Could I continue to give in this way? 
What changes do I need to make?
What boundaries or limits do I need to put in place? 
What expectations do I have?
And most importantly, what support do I need?
Remembering my experience at Broadmoor Seven falls, the climb felt difficult, even painful, but there were moments of rest and times to replenish as needed.  Even professional caregivers give 8 hours of their time and then go home.  
Establishing boundaries and protective measures is vital to avoid compassion fatigue and burnout. For example, my technician wears a mask and gloves when I go for a facial. She still provides excellent care and service, but she protects herself. She cannot allow her caregiving service to make her sick, unsafe, or unsanitary. I needed to do the same, still serve, still deliver but not before putting those protective measures in place.
As we serve others, we can experience burnout or compassion fatigue. Fatigue has limits that if not addressed on time, will run you down. How can you avoid burnout and fatigue? Establish healthy limits!
Clarify your role in the situation.  Know what you are willing to do and not do.  Whether in your job or with a family member, it is essential to be clear about what you are ready to sacrifice and what you will not.  
Be clear about your expectations.  What is within your reach and what is not?   For that which is outside of your reach, seek support and ask for help.
Build your community.  Attach yourself to a network of people who can support you—a church, community, or a friend that can give an hour of their time here and there.
Practice mindfulness. You may not be able to take a sabbatical, but consider the little things you can implement daily. For example, consider taking time off, taking a short trip, going for a short walk, reading a good book, or meeting up with friends over coffee.  Find that one healthy habit you can add to your life that will help you manage stress and burnout.
I have struggled with wanting to do things by myself, but life has taught me many difficult lessons about choosing this path.  For example, I didn't mention at the start of my story that my friend was climbing the stairs alongside me.  She began to notice that I was turning pale, had difficulty breathing, and realized I was in danger.  She suggested (not I) that we go back and accompanied me down all those steps.  If she had not been there, I probably wouldn't have said anything, put a smile on my face, and kept going on the hike, knowing very well that my body was sounding all kinds of alarms to warn me that something was wrong. Unfortunately, I grew up with a script in my head that told me to tough it out, not complain, and not show weakness.  Well, it was time for me to reverse-engineer my thinking and script by reminding myself that my body, too, has its limitations and that self-care is not selfish. I had to become aware of the unhealthy patterns I kept repeating, make incremental changes, and develop healthier habits. It can be challenging to love the people in your life well if you do not love yourself. Listen to your body (lack of sleep, energy loss, fatigue, headaches, etc.), and do not ignore the signs. Stop…rest…replenish!  
Recognizing the dangers of compassion fatigue or burnout is essential, and if ignored, it can lead to a sense of begrudging compliance with your responsibilities. However, do not let the threat of fatigue rob you of the joy of generosity, service, and compassion.  Just set the limits.