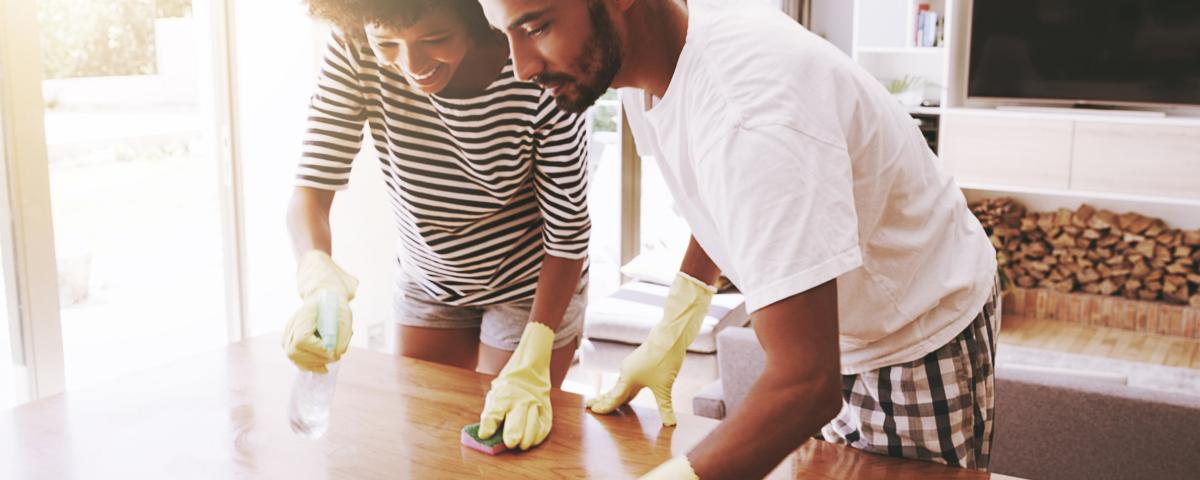 5 Steps to Keep Your House Clean
If you were born in a Hispanic household, then you're very familiar with the Saturday morning drill. It doesn't matter that you stayed up late partying on a Friday night, you're waking up Saturday at 7am to a radio on full blast and the vacuum cleaner.
Rise and shine por que nadie te mandó y esto no es un hotel (no one made you and this isn't a hotel). But you're a grown up now, and mami's not around to pick up after you, and you're used to a clean living space. So, how do you keep your place clean all the time? Here are my 5 tips to getting that place limpiecito and shiny.
Step 1: Get rid of stuff
Listen. I know us Latinos are all about recycling and not being wasteful. Heaven knows that our moms scarred us for life by reusing cookie tins for storing sewing kits and butter tubs for leftovers. There's nothing wrong with that, BUT let's not be hoarders either. If you haven't used it in a year, chances are you never will. Give it away.
Step 2: Do a deep clean
Once you've gotten rid of all the stuff you don't use or need, channel your inner Latina mom (maybe even grandma who's more extreme) and start cleaning from top to bottom. You know the deep clean I'm talking about. It's the one with the Cloro, Fabuloso y el brillo. The one where you get on your hands and knees to get those spots you haven't gotten in years. It's the one where you move ALL the furniture out of the way to get all the dust bunnies under the couch. It's the one that when you're done you can barely move but you can eat off the floor it's so clean. Professional Advice: Take 2 Advil before and after. Also turn up the music! [video width="480" height="268" mp4="https://familybridgesusa.org/wp-content/uploads/2019/04/cleaning-minion.mp4"][/video]
Step 3: Assign chores
Once you've majorly cleaned your place, assign chores to every breathing creature in the house. If it moves, it cleans something on a regular basis.
Step 4: Clean up after yourself
If you made a mess, clean it. Wash your dirty cups and plates right away. Put your clothes in the hamper or hang it in the closet - don't throw it on the chair in the corner. If something falls on the floor, pick it up. You get the idea.
Step 5: Give yourself 15 minutes
Spend 15 minutes every evening tidying up. Sweep the floors, take out the trash, empty (or fill) the dishwasher. These 15 minutes will save you a couple of hours during the weekend. I guarantee it.
So there you have it - a clean house. Now call your mami and invite her over for lunch so she can marvel at how clean you are and what a good job she did raising you. Tell your pops I said hi too.