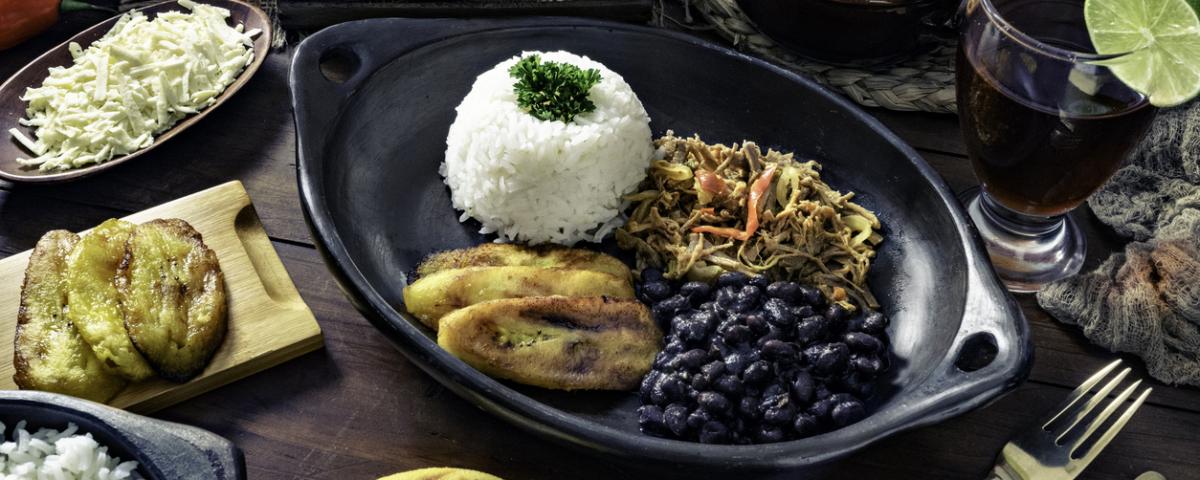 Top 10 Latin Dishes of All Time
By José-Andrés Alegría
I am not going to lie. When I thought of this idea, I was so excited. My initial thought was, "I get to write about the greatest food of all time." But as I sit here writing, the pressure of not messing this up is getting to me. To think that I, a mere human, could list the top 10 Latin dishes of all time was prideful at best. No matter how perfectly executed this list is, there will be some people who do not agree with me. But I need to get out ahead of this and define what I mean by dishes. If this list were top 10 foods, then unarguably number 1 would be white rice with plátano maduros (sweet plantains) being a close second. If we are honest, that list would be incredibly dull, so what do I mean by "Latin Dish?" I couldn't think of a definitive answer until I was joking around with my little sister. A Latin dish is something that you would be willing to Postmates or Uber Eats to your house. You aren't going to Postmates just white rice and nothing else. You might get a side of beans and some chicken; now we have arroz con habichuelas y pollo asado, a Latin dish. So without further ado. Here is the list you will either love or hate.
Top 10 Latin Dishes
1. Empanadas
Empanadas are the undisputed first seed. Every country has some version of it. Whether made with flour or maize, empanadas truly are the best. Who doesn't like a flaky pastry that's filled with whatever your heart desires? Beef, chicken, ham and cheese, just cheese, or whatever else you are brave enough to put in there. You can't go wrong. When someone hands you an empanada, your gut reaction is to ask. "What's in there?" It's like Christmas morning when you finally get to open your presents.
2. Arroz con pollo
Arroz con pollo is a staple in any Latin household. Have a big group to feed and not that much chicken? Mix it into some rice and boom. Dinner for 10. If someone is handing you a plate of arroz con pollo, I guarantee that you are smiling from ear to ear.
3. Tacos
Who doesn't love tacos? The only real hate for tacos is if you're team 'hard shell' and someone hands you a taco in a tortilla. Outside of that, if anyone ever says that they hate tacos, you need to take a step back and reexamine your friendship with them.
4. Ropa Vieja
It pains me to say that our very own Isabel Miranda (graphic designer here at Family Bridges) didn't know what Ropa Vieja was. But then I began to realize that she is not to blame. It is the lack of Cuban food here in Chicago that is the issue. I mean, most of the people I work with don't even know what Cuban bread is, and that is the real travesty. For those that don't know, Ropa Vieja is divinely seasoned and shredded beef, usually served over a bed of white rice.
5. Lomo saltado
Steak and potatoes reimagined into steak, and french fries with onions and peppers mixed in and all laid down on top of a bed of rice. The fries and the rice soak up the salty juice from the steak and explodes into the most beautiful bite. I'm just going to go ahead and say it. Peruvians have the best food.
6. Tamales
If empanadas are like Christmas presents, then tamales are like birthday presents. There is a sense of excitement, but not as much. You generally know what is in a tamale. That doesn't take away from how amazing they are, but there is less of a wow factor. But a perfect tamale can be life-affirming.
7. Sancocho
The quintessential soup across the board. Everyone has their version of sancocho. Sancocho shows the ingenuity of Latinos. What might be considered as scraps by others is thrown into a pot with some broth, seasoned, and loved the right way. The smell is intoxicating. And when you finally pour yourself a bowl and bring the first spoonful to your lips, nothing can compare.
8. Arepas
One of the greatest forms of dough ever invented. Other cultures have pretzels or sourdough bread, but we have the beauty of arepas. And like empanadas, you can put anything into it. Want avocado toast? Try it in an arepa. Or maybe an egg with some cheese. Either way, you can't go wrong.
9. Mofongo
The dilemma of breaking my own rules. I want to put plátano maduros on this list because they are a source of life for my Dominican-self, but it seems to break the rules I have laid out on what constitutes a dish. So this is my substitute. That is not to say that Mofongo plays second fiddle. If you ever want to gain 5 pounds in one sitting, then eat Mofongo. But isn't that the beauty of a ball of fried plátano with meat mixed into it? (Side note: while doing "research" for this list I found something disturbing. If you search plátano, Google will ask if you meant 'cooking banana' and frankly, that's just disrespectful to one of the greatest foods of all time.)
10. Arroz Chaufa
My two favorites are Asian and Latin food. You can ask me which one is better and you will get a different answer depending on the day. So the fact that Arroz Chaufa draws inspiration from both is beautiful. Fried rice made by a Latino? What could go wrong? Nothing, absolutely nothing.
Honorable mentions:
Cuban Sandwich - This sandwich is so good that there is a whole Jon Favreau movie (Chef) about making a perfect Cuban sandwich. Mangu - What's better than mashed potatoes? Mashed plantains and if you give it to me with los tres golpes (fried egg, fried cheese & fried salami). I might ask you to marry me. Jibaritos - I think I have established that I love plátano and I love sandwiches, so combining the 2 of them is like a dream come true. Huevos rancheros - This is one of the few dishes my dad can make. Huevos rancheros and his arroz con leche are top-notch. I can honestly live off of beans, eggs, tortilla, and salsa. Alfajores - Although technically not a dish, these cookies are the best. And I have absolutely gotten them delivered to my house one or...20 times. Some people are probably mad that their favorite dish didn't make it on this list. Others disagree with my list entirely, but I urge you that if you have not eaten any of these dishes, go out right now and make your life a little better one bite at a time. Trust me on this one; I live to eat.