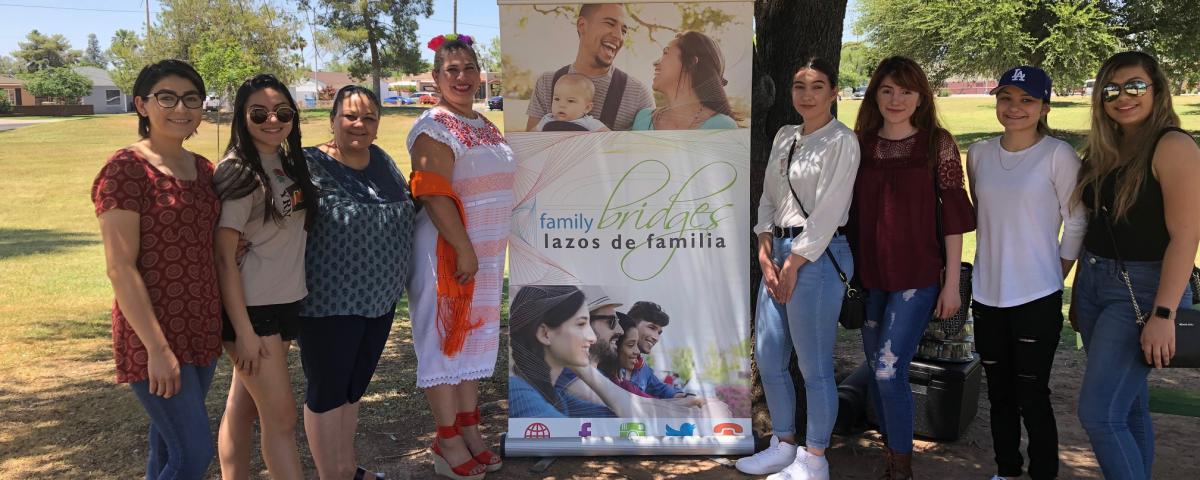 Latinos Destacados: Imelda Hartley - Bringing Domestic Violence Awareness
"Imagine you are pregnant, living inside an airport for three months. After your baby is born, you marry the baby's father. And when you think you're going to start living a life of happiness, you start living the hell of domestic violence for 20 years," said Imelda Hartley to a group of young girls.
Recently in Phoenix, Family Bridges had the opportunity to host Imelda Hartley, founder of Imelda's Happy Tamales, as she shared her story of domestic violence and abusive relationships.
Imelda recalled family telling her it was ok and her duty as a wife was to take the abuse. However, after several visits to the hospital, suffering multiple injuries, Imelda knew that this wasn't the lifestyle she wanted to live. While Imelda admitted that it took her a while to realize that she couldn't change people, she was determined to break the vicious cycle she found herself in. Hartley credited her pursuit of education as a source of inspiration to get out of her circumstances.
"Domestic violence is a real social problem," Hartley said. Now, as a domestic violence survivor, Imelda uses her business of cooking delicious tamales as a platform to spread awareness of domestic violence in the community. Each of her tamales is named with words of encouragement. One of her more popular tamales is the Hope Tamale.
This event was part of Family Bridges' Wise Up Girl program, a mentoring program for High School and College aged girls, providing relationship education content. Divorce, domestic violence, addictions, and relational conflicts are shaking the foundation of families and impacting the present and future lives of children. Through the Wise Up Girl program, Family Bridges is committed to ensuring a brighter future for these girls, no matter how bleak their current situation may be.
Imelda acknowledged that for her, recognizing that she was in an abusive relationship was not easy. People often fail to realize there is a problem because of either denial or fear. Imelda shared a few tips and warning signs with the girls to help them identify red flags. Unhealthy behaviors could include things like:
Your partner wants to know where you are at all times.
Your partner wants to access your social media accounts to monitor your interactions.
The person wants access to your phone and monitors who is calling.
Consistently wants an explanation to where you will be, what you will be doing, who you will be with.
Ultimately, "relationships are about trust and respect, not about control," said Imelda. "If the person is demonstrating these behaviors, then that is control, and control is not love." If you or someone you know may be experiencing dating or domestic violence, there are resources out there. Call the domestic violence hotline at 1-800-799-7233. To learn more about Imelda, watch her story:
---
For more tips on relationships, follow Family Bridges on social media @familybridges