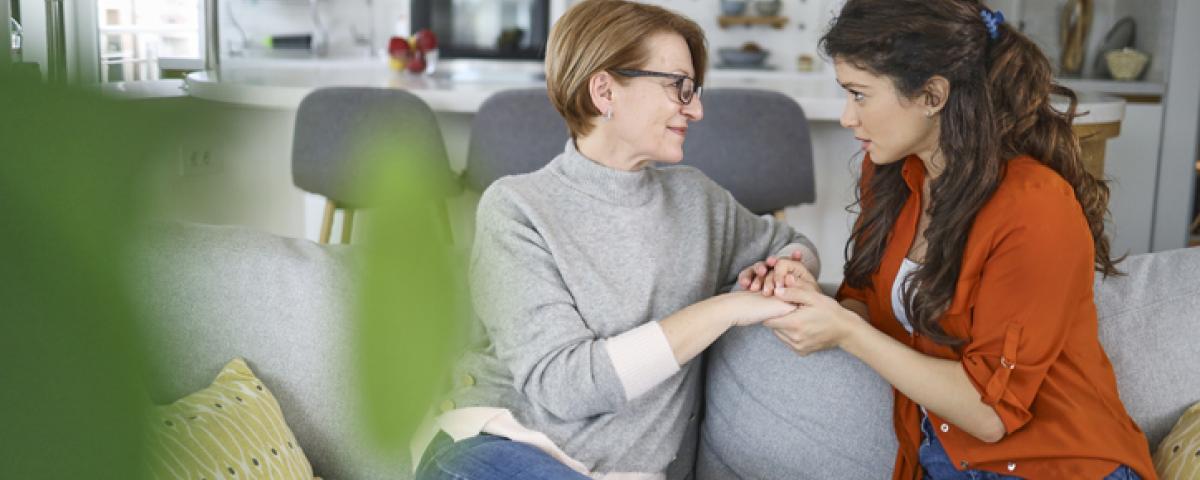 Did I Really Talk to My Mother That Way?
As a child, I used to believe that my mother had supernatural powers.  Just imagine, all it took was one firm look and a raise of her pointer finger and I knew that meant "get my act together."  She never used her words, her body language would say it all.  Can you relate?  She was the matriarch of the family, a strong woman, who was a disciplinarian and yet always caring for others, helping friends, family, and her community…a strong pillar.  She raised us with Christian values and made sure we went to church 2 or 3 times a week.  So it is natural that when she was diagnosed with cancer, I would be there for her.  It was my turn to repay all the love she poured into us by showing up and supporting her through a very difficult time.  What I did not anticipate was that I would also find myself taking care of my older half-brother.  I honestly wish I could say that I found joy in that, but I didn't.  He was difficult and extremely challenging.  I thought many times about the verse… 
"Love the Lord your God with all your heart and all your soul and with all your mind and with all your strength. The second is this: 'Love your neighbor as yourself.' there is no commandment greater than these." Mark 12:30-31
That commandment is easy to follow when the person is easy to love…but it is very hard to love someone who makes it nearly impossible.  And yet that is exactly what God commands us to do.  A year of traveling back and forth to offer support and care for my mother, while at the same time dealing with my brother began to weigh down on me.  As my mother began to win her fight against cancer, my brother became more and more difficult.  I had begun to experience more frequent headaches, sleepless nights, and asthma flare-ups.  What was my body telling me?  It had reached its limit.  Then I was reminded of the word "BOUNDARIES." Of course, I should know this, but I was so caught up doing, doing, and doing that I forgot to set my boundaries.  That "aha" moment got me to reflect on questions such as:
Why do I feel the way I do about this situation? Emotionally, physically, mentally? 
What assumptions have I been making?  Am I alone in this?  Or have I chosen to do this alone?
What am I willing to do for the other person and where do I draw the line? How clear have I been about this to them?
How is this affecting me?  How am I treating others because of this?
After spending time getting clarity, I began to take necessary measures.  It begins with having a difficult conversation with the matriarch of my family...my mom.  She has always protected my older brother and does not take kindly to people complaining about him.  However, I pressed on and shared my feelings, steering clear from blaming or judging and only focusing on my ask.  I was specific and clear about what I was willing to do and what I would not do.  Yikes…did I just say that to my mother?  At first, I assumed that she would respond by giving me a stern look and raising her pointer finger, but in truth, as difficult as it was for her to hear, she listened, understood, and validated me.  It was a challenging conversation, however, being clear about my ask allowed me to stay focused. Clarity can help you define where you are and what destination you want to get to.  If you don't know where you are in the present, then how can your internal GPS help you get to where you need to be?   
The next task wasn't so tough because I had mustered so much anger already that I figured I would go in there and give my brother a piece of my mind….then I remembered the verse  'Love your neighbor as yourself.' There is no commandment greater than these."  Ugh, not so easy now…God was asking me to do something very difficult. So there I go, taking time to clear my head "AGAIN!" This is a very important step because if our emotions are driving us, then the outcomes will be less favorable.  While the conversation was stern and much more direct, I stayed away from tones that might make him feel shamed or mistreated. In the end, I was able to articulate what my boundaries are and how I would protect those. I wish I could say it worked, but he continues to challenge those boundaries at times.  The truth is that having that talk was more for me than for my mother or my brother.  Being clear about my boundaries helps me stay on course and accountable. I moved forward…got unstuck.  I was able to dig myself out of that place of feeling overwhelmed and frustrated. I was able to trade out the lens that made me see things in a negative light for a lens that lets me see God's grace in this whole situation.  
Having a difficult conversation with your family can sometimes be daunting and challenging, but choosing not to have them can sever the relationship while hurting yourself along the way.  If you want to learn more about how to have tough conversations that can get you the results you want, click here to watch a video from our Casademia online learning platform.
We would love to connect with you! Click here to schedule an appointment.