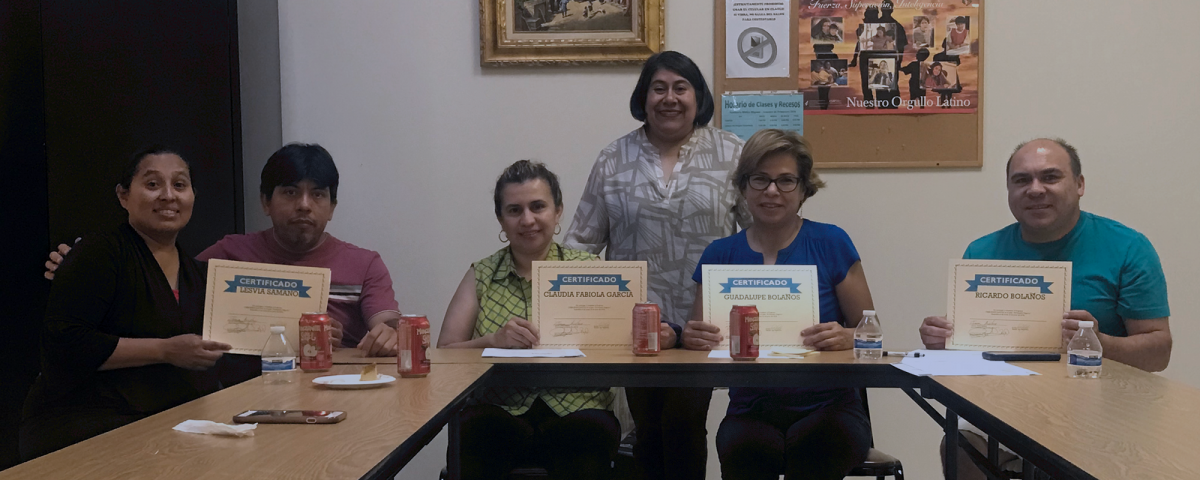 Big dreams for small businesses
What defines your story? Is it a certain moment in time? A relationship? Perhaps a dream? For many people who walk through the doors of Family Bridges, they come in with a powerful idea, but with no direction on how to change their lives and make it anything other than an idea. Lives are transformed when people build new businesses, innovate off of old ideas, or take the next step to improving situations. These transformative opportunities start with a dream.
Vision is one of the keys to success, but without the ability to implement that vision in the real world, then that's all someone has, a dream.
So how do you take a dream and make it a reality?
The Micro-enterprise Program was the solution for many families that came to Family Bridges to make their dreams, their vision, concrete. Individuals like Pedro Uribe saw the destination they wanted to arrive at, which was to own his own contracting business. He had the knowledge to be a great contractor, worked hard to earn the education needed to deliver great service, but lacked the experience and background to know how to navigate the complicated arena of business law. What is a tax write-off? How do I get all the permits I need? He needed answers.
Finding these answers was not easy. Classes about the nuances of running a small business exist, but many of them are expensive; they also serve an English speaking demographic primarily. For future entrepreneurs like Pedro whose first language is Spanish, these resources are hard to find, making tools they need to make their dreams materialize out of reach. Micro-Enterprise's 8 week curriculum brings the resources people like Pedro Uribe need to successfully start a small business.
Because these business ideas usually start as a hobbies in the home, it can be difficult to separate personal finances from business costs. Often, due to cultural traditions, many Micro-enterprise students feel obligated to take on the first attorney or tax expert they speak to and do not seek out multiple quotes. By bringing bankers, tax professionals, and lawyers to the Micro-enterprise classes, the students have the opportunity to experience these negotiations with their teacher, Juana Arellano with over 20 years of teaching experience, right there to help them.
Thanks to supporters like you, Pedro Uribe had eight weeks to create a plan, get his feet wet in the business world, and launch that plan in a real way. As a handyman, Pedro understood the importance of having the right tools to do a job well, and the dangers of attempting a project without the right knowledge or implements to make it work. Five years later, he continues to grow his contracting company. He made his dream real, making success a part of his story. Now, he employs others, and points them toward success. Building a strong small business based on sound practices and strong values inspires others in the community to dream and pursue that goal.
Family Bridges loves helping people grow their dreams from small seeds to large trees. Microenterprise is a part of our Love Story. We love sharing our story, and learning about other people's stories too.
To support other stories of dreams and successes like Pedro Uribe's business enterprise, come spend an evening getting to know us at our special event called Fall in Love: What's Your Love Story on November 13, 2020 via YouTube Live. We are partnering with the app StoryCorps, to let you share your dreams, your goals, and your love story. Have a cozy date night in with our date-in-a-box gift, live entertainment, and surprises.
To register for the Love Story event and receive an early bird discount on tickets, you can sign up here.